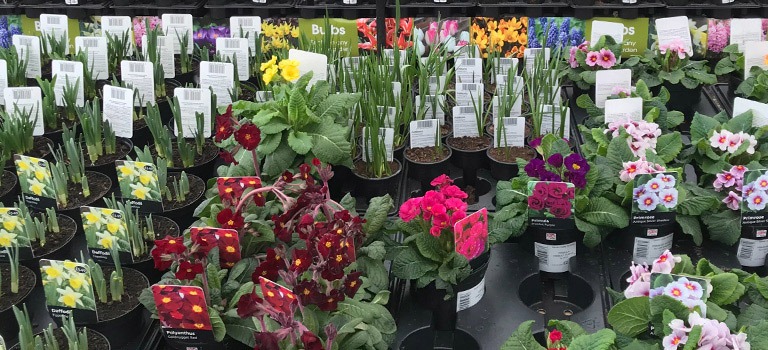 Plants
Choose the right plants to create your perfect garden!
Whether you're a keen gardener, a 'grow your own' enthusiast or tentatively testing out your green fingers for the first time, we are here to offer advice and support with choosing plants. We are happy to suggest plants that will grow well in a particular given location.
Furthermore, if you seek inspiration for your garden there is always a lovely selection of plants to enjoy browsing around. We source our stocks from selected growers throughout the UK and Europe and we receive fresh deliveries of seasonal plants daily.
We stock everything from Italian show pieces, to hardy hedging, to beautiful flowering bedding. If it's garden colour you seek we can help with spring bulbs, seeds, flowering annuals and perennials and stunning foliage. Have a wander around, enjoy some refreshments in our café and have fun spotting the perfect additions for your plot!
We also have (probably) the largest selection of Japanese Maples / Acers in North Wales!
Seasonal Annuals
Annual plants last for a single season. One of the best things about annuals is their incredible diversity and versatility. Using them allows you to compose exciting combinations of colour, form and texture. We receive fresh weekly deliveries of seasonal annuals throughout the year.
Our Annuals include plants for:
Bedding
Hanging baskets
Borders
Patio pots
Colour and fragrance
Perennials
Perennials live for two years or more and can provide flowers and colour year after year. Herbaceous perennials die back in autumn and shoot again in spring. Our stocks are replenished throughout the year so that they are market fresh and seasonally available.
Our perennial range consists of plants for:
Shady, sunny and exposed locations
Cottage garden, architectural and Mediterranean themes
Wildlife attracting
Colour and fragrance
Borders, pots and baskets
Acidic soils
Roses
For centuries roses have been a symbol for love, beauty, war and politics.
We stock a selection of roses for celebration, remembrance, fragrance and gifts.
Our David Austin roses have become increasingly popular. Since the early 1950's David Austin set out to create more beautiful roses with exuberant blooms and wonderful fragrances. They are now world renowned and a very much sought-after addition to a garden.
In our Rose department we stock:
Shrub roses
Climbing roses
Standard roses
Celebration and remembrance roses
Hardy and easy-care roses
Rose care products
Alpines
We offer a fantastic selection of alpine plants, which work well in pots, containers and rockeries. They are known for their vibrant and unusual looking flowers and foliage. They grow best in well drained soil or compost and are generally quite hardy.
Perfect for the following uses:
Rockeries
Pots and hanging baskets
Borders
Ground cover
Climbers
Climbing plants cover walls, fences, trellis, arches and obelisks. They are great for screening and perfect for adding colour and drama to smaller gardens. Popular plants include Clematis, Wisteria, Honeysuckle, Trachelospermum and Roses.
Our range of climbers are suitable for the following purposes:
Screening
Fragrance
Year-round cover
Climbing up walls
Trees and Shrubs
Trees and shrubs form the backbone of a landscape and can provide glorious blooms. They bring character, structure and balance to a garden. They require little care and attention and many can be grown in pots or containers as well as in the ground.
Our trees and shrubs include:
Fruit trees and bushes
Hedging and screening plants
Japanese Maples (Acers)
Evergreens
Feature and Structural Plants
Feature and structural plants add focal points to your garden area. Some are real show stoppers! They may be tropical and require some extra care and attention or they may be more hardy and require pruning to a perfect creative form.
Our range includes:
Show stoppers and centre pieces
Plants for screening
Shrubs for topiary
Tropical plants
Japanese Maples / Acers
We have (probably) the largest selection of Acers in North Wales! Acers have intensely coloured and beautifully shaped foliage. Commonly known as Japanese Maple trees they boast a graceful shape, whether they are weeping, dwarf or spreading forms. Acers are easy to grow and flourish in sheltered locations, away from cold and drying winds.
The benefits of Acers:
Grow well in pots or in the ground
Stunning centre pieces
Fantastic autumn colour
Many varieties, shapes, colours and sizes
Slow growing small trees that are great for all garden sizes
Beautiful pointed leaf shapes
What is in Stock?
As a small independent garden centre we have a constantly rotating stock of seasonal plants that change on a weekly basis. If you are looking for something specific then please call us to find out what we currently have in stock 🙂