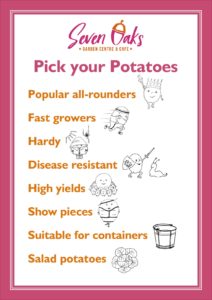 If you fancy giving potato growing a try this year then we are here to help you 'Speak Spud'!
This year we have created the 'Seven Oaks Potato People' to assist you with choosing the best potatoes for you.
Growing potatoes is pretty straight forward and a great option for families or if you wish to give 'grow-your-own' a first try. Potatoes can be grown in grow bags, containers, raised beds or in the ground. We can offer advice on planting, nurturing, harvesting and storage should you need it.
Why not give it a go and enjoy the excitement and achievement of digging your own dinner!